BRONX, N.Y.—I asked the first guy I saw if he knew Chuck, the counterman at a local Jewish Deli who collapsed and died on one of the nearby handball courts six years ago. We're in Van Cortlandt Park, in the West Bronx, where Chuck was known by many as an avid paddleball player. Chuck crumpled on an unbearably hot humid Sunday morning, the slow, creaking sound of a subway train approaching the final stop on the 1 line above him. It wasn't the worst place to die.
The guy looked at me funny and squinted. Sitting in a folding chair backward, gray slicked-back hair, tank top—an extra from Goodfellas—he said, "Whadda ya tryin' to say? I look outta shape? Somethin' about me looks old to you?"
I took that as a "no." But there were guys who played with Chuck and they still talk about him; he cut a mean pastrami—extra fatty. It was early afternoon and a group of 30 or more men were gathered to play paddleball. Most of them had pot bellies. They played doubles, bulky men darting around each other with an agility that belied their bulge. The courts were narrow and they filled the space like cannoli stacked behind a glass counter on Arthur Avenue.
"If you are here you can't get into trouble," said one regular, carefully forgetting that later in the afternoon, when the best players arrived, side bets flourished. "You meet guys, sometimes girls. You can get out a lot of stress hitting that ball."
There is a tension to summer sports in New York that reflects the character of the city. "New York's clock is directed by a moral spring, and it binds pleasure and harm inextricably together," wrote Luc Sante in Low Life, his historical study of the underbelly of New York. The playground competition is fierce, unforgiving. The crowds even tougher. People in the Northeast are keenly aware that there will be only so many accommodating days during the year. Advantage must be taken when those days arrive. In New York, this is heightened by an acute sense of the limitations of time and space. There is not much of either, and it must be negotiated and shared—if a soccer game runs late, the ensuing cricket match will start late as well, and so on.
It's not that sports matter more to New Yorkers than they do to Philadelphians or Angelinos. What distinguishes sports in New York is its quintessential diversity. In any given area of town, you will find any number of games being played by any number of nationalities, side-by-side.
Take Van Cortlandt Park. On this Sunday afternoon, I saw more than a dozen soccer games, three cricket matches and six softball games being played at once in the open field on the west side. A group of proud, hard-looking black and Spanish women trudged across the great field after a softball game just as a collection of dapper-looking West Indian and Pakistani teenagers convened for a cricket match.
Next to the field is the oldest public golf course in the country; next to that are the riding stables. Below both are public pools, a cross-country track, tennis and basketball courts and more baseball fields. A couple of blocks away, tucked off 240th Street, is Gaelic Park, a treasure shared by Manhattan College and the Gaelic Athletic Association.
In the summer, off-the-boat Irish boys, strong, pink-necked and pale-legged, play terrific games of such primordial Viking sports as Gaelic football and hurling (think of field hockey, lacrosse, and baseball mashed together). Young women play football too, and then pound beers over by the picnic table. The field comes equipped with a bar. When I visited, a few hundred people sat in the bleachers. Across the field in the small press box, an old-timer fixed himself a cup of Barry's tea and spread butter on a thick slice of Irish Soda Bread. "They ran out of scones today," he said. A thin man in front of him packed up his laptop, having just finished an article on the women's football match, and changed into shorts and spikes as he prepared to referee the hurling match.
"We multitask," he said.
The playgrounds and public parks in New York are egalitarian. The rules are simple, and class doesn't enter into them. Anyone can play. And every sport has its cast of characters—the crowd, the families, the kids, the middle-aged men, wannabes and has-beens, the referees and umpires. And then there are the coaches and teachers—the volunteers who know the lure of the streets. They know that sports provide more than a distraction. They foster a sense of belonging.
---
Basketball is New York's most recognizable and marketable sport. Tourists routinely stop by the cramped cage of the West 4th Street courts in Greenwich Village for a glimpse of street ball. The Entertainers' Basketball Classic at Rucker Park—which has its own storied history—is the most famous spot in town, located at the foot of the Old Polo Grounds on 155th and 8th Avenue since 1965. Major celebrities turn out, including ex-presidents like Bill Clinton. The EBC has its own show on the MSG Network.
The Nike Pro-City Hoops tournament at Hunter College, an indoor venue fully sponsored by the sneaker company, also provides elite competition. There's more exciting ball played at Fun in the Sun at Orchard Beach in the Bronx and 145th and Lenox in Harlem, the home of the National Street Basketball Association, a new and ambitious league. But just down the 1 train line from Van Cortlandt Park, not 10 minutes away, you'll find some of the most energetic competition in the city at the Dyckman courts.
"This is the jewel of the neighborhood," said Isaiah Brown, one of the Dyckman Tournament organizers, on a recent evening. "It didn't always look this good."
The court was repainted a few years ago and is sharp-looking and clean—the backboards are made from fiberglass, and the rims always have nets. It can dry in 30 minutes. "I only worry if it's raining when I leave work in the evening not when I wake up," said Brown. "Just because we're from the 'hood doesn't mean we can't have nice things and maintain them too," he added.
Dramatically framed on the west by subway trains rumbling overhead, the Dyckman courts are an oasis in the dark summer night. On the street outside, chicken and pork were grilling and smoke filled the air. Inside, the smell of weed wafted over the barbecue.
Nike dollars came to Dyckman in 2007—the company outfitted the league and donated a large banner that hangs on one side of the court. On it is a picture of the subway train and the words: "The 1 Train is Watching," a play on Jay Z's "The Streets is Watching," which is one of Ken Stevens' favorite phrases. "Dyckman after dark," he also says, or "Dyckman Basketball—all day, every day."
At 41, Stevens is a neighborhood icon who has "coached more than half of the people you see turn out here, the players and the fans." He coached Brown too. "Kenny commands respect in a neighborhood," said Brown. Stevens also doubles as the tournament emcee, admired for his fairness by giving anyone the business or singing his praises whenever it's warranted.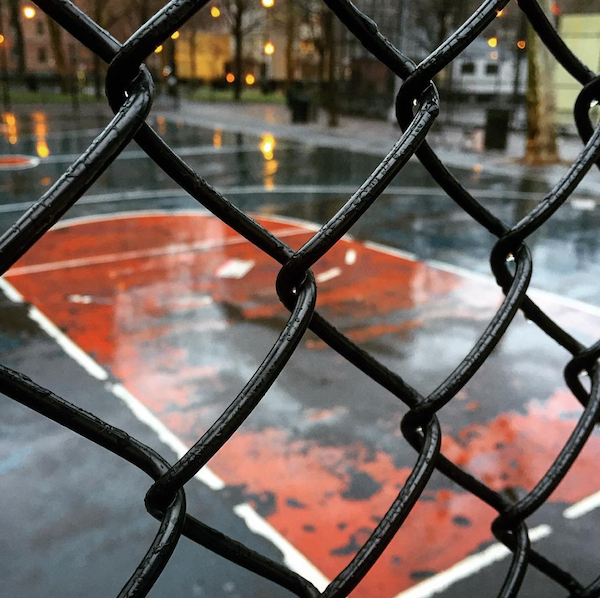 "This is one of the poorest congressional districts in the country," said Brown. "Kids see the drug dealers flaunting their chains, their nice clothes, their girls, and it's hard for us to compete with that. But we try. Kenny and I, we're not rich, we're not even well off, but we're OK. All year we're here at this park. And you have to show up in an environment like this, you can't slip. If you don't keep your word around here kids will drop you like a bad habit."
Stevens started the tournament in 1990 and for its first decade it remained under the city's radar. And then a kid known as the Bone Collector showed up to take possession of Dyckman's mojo. Born Larry Williams, he was a diminutive point guard from California with a style made for the New York streets. "He put us on the map," said Brown. "We had kids hanging from the trees. Nobody has packed the park like Bone."
As the tournament's reputation grew, Stevens and Brown looked to recruit younger players such as Rice high school stars Steve Burtt Jr. and Kenny Satterfield. "In order to win up here," said Brown, "a team has got to have a couple of D-1 level players. We had Jeremy Hazell and Jordan Theodore from Seton Hall, and Corey Fisher from Villanova here this summer." The games are rugged but highly skilled. Stevens doesn't go for the showboating tricks of the And One game. He'll call guys out when he's emceeing a game—a carry is a carry and the refs are instructed to call the game righteously.
Though Dyckman has a firm reputation among the summer leagues, it is not a stop on a city bus tour. Ron Artest's team has played at Dyckman, and the rapper Cam'ron has a squad. Hip hop legends such as Fat Joe, Sadat X, and Lord Finesse, come through. But Dyckman doesn't attract the A-list celebrities you'll find at Pro-Hoops or Rucker. One reason: There isn't as much security.
"We have an agreement with the 34th Precinct," said Brown. "They were here for a couple of years but we never had an incident. Now, they're like, 'Call us if you think you need it.' That's why we keep things in-house. If we call them, they are here like this," Brown snapped his fingers. "The police here have their hands full anyway. Since we got the bleachers two years ago, that helps. The bleachers aid security because they provide containment. People are sitting comfortably, cooling out, instead of standing on top of each other."
Stevens sees the summer as the most crucial time of the year because the games help keep the peace. It gives the neighborhood something to come out for—nightly street theater. When local favorites Dominican Power play, their supporters gather 40-deep behind one basket and become part of the show, leaking out onto the court to jeer an opponent or root their boys on.
"Are we tough?" said Brown with a chuckle. "This is New York, bro. Just look at the Knicks. We hate them. Of course, we're tough. If you are garbage we're going to let you know. If we don't look up to par out here with this tournament, the community will tell us. You got a bunch of tough critics out here, man."
---
On the other side of the city, an hour or more away by subway, a gaunt man with suspicious eyes stood on the corner of Jefferson and Franklin in Brooklyn's Bedford-Stuyvesant neighborhood. He stood with purpose as if guarding the spot. This is a rough neighborhood, where sidewalk flower beds get bars too, in addition to the front doors.
Down the block is St. Claver Church, where Ruth Payne runs a Double Dutch clinic and coaches a team called the Jammin' Jumpers (not to be confused with their more accomplished rivals from Brownsville, The Jazzy Jumpers).
Last year, Double Dutch gained varsity status in the New York City public schools. The school system's bureaucracy is not known for its quick responses or flexibility, but Payne says it only took one e-mail to the head of the Public School Athletic League to get the ball rolling. She credits a higher power, but she may be selling short her own gifts of persuasion, the timeliness of the idea, and the sport's inherent appeal.
Double Dutch was one of the few games that girls could play without being ridiculed. The street game was a cousin to hopscotch, nothing to be taken too seriously—but it is now.
You don't need to be a gifted athlete to play Double Dutch on the sidewalk, you only need nimble feet. I saw Payne and five of her Jumpers—four girls and a boy—give a demonstration on the roof of the Brooklyn Children's Museum in Crown Heights. It was a burning hot summer morning. After showing off their stuff, Payne and the Jumpers invited the audience to jump, and one by one, they all tried—giggling teenage girls, a determined 10-year old boy, a hopeless Asian mother with flip-flops and no sense of rhythm. Payne dispensed with the lousy jumpers quickly and indulged the ones with ability. A couple of skinny girls aced it and everyone applauded.
As a rag mop tomboy, Payne jumped rope and sang rhymes. Double Dutch was one of the few games that girls could play without being ridiculed. The street game was a cousin to hopscotch, nothing to be taken too seriously—but it is now.
Payne's students are participating at a different level. They need to be agile, coordinated and able to keep time. The girls don't rhyme anymore but like to practice to music. Now played internationally, the sport has reached a level of sophistication and skill that goes way beyond being a pickup game. Nationally, there are strict guidelines in the compulsory, free style and speed categories. At city competitions judges deduct points for poor technique, trips, clumsy exits and, sometimes, "attitude."
The jumpers practice four days a week in the summer in the stuffy old St. Claver Church gym, with its low ceilings and musty wood aroma. Most of them put in extra work to improve their speed and routines on their own. Often, former students come back to help out, a few parents show up, and once in a while younger siblings tag along, giving practice a family feel.
In the gym, the girls performed flips and back flips and moves like "the frog," "crosses," "push-ups" and "the wheelbarrow." They spent much of their time bumping on the ground, then rapidly tapping their feet and jumping in the air like Energizer bunnies come to life. They eagerly tried out new moves and brushed off the thought of landing hard on concrete during a back flip. Most of the girls are long and lean—some are stronger at jumping, others at working the ropes. Either way, in order to perform, they must work in concert, knowing each other's strengths and weaknesses. They know that screw-ups and failures are part of the game, but the best players remain undeterred.
They like the work, the structure, and the time they spend with each other. "They don't want to go home," said Payne, "they beg me to keep practice longer." Payne introduces the basic moves, and they pick up others by watching other teams. Once they master the basics, the girls love to, as they put it, "express ourselves," creating freestyle routines that emphasize creativity, not just speed.
And yet almost all of Payne's girls leave the team when they enter high school. Most of them will go to different schools, start hanging with new friends. And then there are boys. Payne considered this and laughed because there's really nothing else for her to do when dealing with the most challenging creatures on earth, 13-year-old girls. "Oh, they're much tougher than coaching boys."
It is exhausting work, which is why Payne is grooming erstwhile student Kyaisha Murray to take over as head coach. "My former players tell me I'm getting soft in my old age," said Payne, laughing. "It's true. You need to be hard with these kids. If you are not hard you won't keep them. And I'm tired."
Still, it is difficult to imagine Payne not working with children. Her former players, "my ministry," she calls them, remain in touch. "They tell me I'm like their mother, that I gave them their first chance," Payne said. "When I coached basketball, I always put in the scrubs even if the rest of the team got mad, and some of those so-called scrubs went on to get scholarships to college. Some went to jail. They still come back to me. I took the time, that's the most important thing. I cared for them."
---
Back uptown, in the Washington Heights and Inwood sections of northern Manhattan, which have large Dominican communities, baseball is the game of choice. The game is played throughout the city but nowhere else does it feel as ingrained in the fabric of the neighborhood as there, where you'll find grown men who used to play, the kids who will follow them, and the women who've watched them. Manny Ramirez and Rod Carew are the two most famous names to pass through George Washington High in Washington Heights.
One of the most idyllic baseball spots is Inwood Park. Located at the northern tip of Manhattan, it is home of the Inwood Little League, formed in 1951, as well as the only natural forest left in the City. The Henry Hudson Bridge dominates the landscape to the north, creating a postcard composition as the backdrop to the Bad News Bears bliss on the fields. I watched a cute fat kid, 8-years old, unable to throw a strike for 10 minutes, his fed-up teammates melting in the heat behind him. The parents watching were annoyed too, their voices hoarse, hands sore. Every fly ball an adventure, every catch in doubt. In another part of the park I heard a coach (an Irish Buttermaker in a hockey jersey) call his team a bunch of Marys after their warm-up cheer came up flat.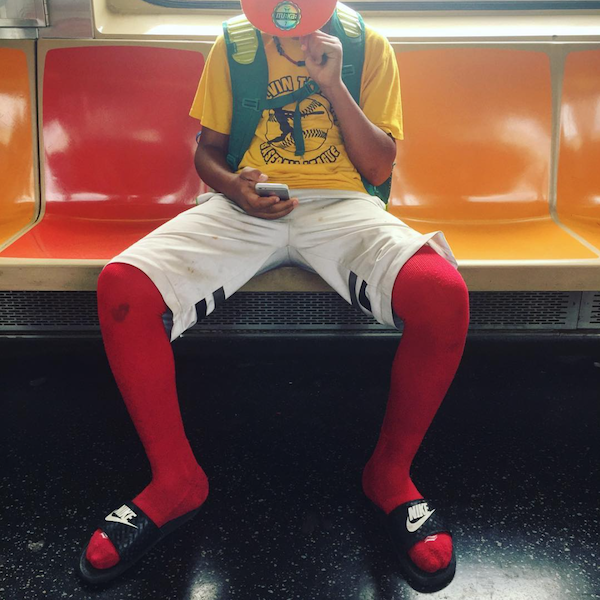 "What's the matter, didn't you guys get your beauty sleep last night?" he said.
The Inwood Little League is mostly instructional—every kid gets a chance to play. But there are other, more competitive leagues at the park as well. And when a game isn't being played, you'll find teenage boys taking grounders or batting practice on an open infield.
Not far away, Ernies Alemais, 36, stood at one end of the batting cage with a mitt on his left hand and a bat in his right. He is a co-owner of the Uptown Sports Complex, a cavernous space between a funeral home and the OTB near Van Cortlandt Park. The complex consists of four hitting tunnels, a gymnasium and several rooms for dance classes, yoga, and birthday parties.
Alemais hit ground balls to the other side of the cage where three teenage boys—including Stephen, his oldest son—took turns fielding. The boys moved languidly and Alemais did not spare them, slapping the ball hard, then softly, to one side and the other.
"There is a word in the Dominican lingo called 'Tigeraje," said Alemais, "which means savvy and street smarts. Not necessarily arrogance, but poise, a way to carry yourself with confidence."
These boys have Tigeraje.
Alemais was the rare Dominican kid who did not grow up playing baseball. He was a jock, the captain of the football team at John F. Kennedy High in the Bronx when it won the city championship. But it wasn't until Alemais' son showed interest in baseball that he began learning it himself. "I read books and looked at instructional videos and went to seminars because I wanted to know what I was doing," he said.
Too small to play D-I football, Alemais landed a job in building maintenance and eventually started a side business cleaning offices in midtown. But he dreamed of opening a batting cage. "I started thinking about it six years ago when I was coaching my son," said Alemais. "I had to pay a toll to cross a bridge and drive out to Queens or Jersey to get to a cage. It was unbelievable to me that in the heart of the Washington Heights area there were no cages."
Alemais methodically researched batting cages and when the economic downturn dried up his cleaning service, he took a leap of faith. Last December, he left his maintenance job. With the help of two partners, he opened the Complex. His friends thought the idea would flop and his mother wasn't wild about it either.
"But in order to make it work," he said, "I had to be here full-time. That way if it didn't pan out I would have nobody to blame but myself."
Alemais carries himself like a confident athlete—prepared and cocksure. He has more students than a fellow instructor at the Complex who played minor league ball because Alemais is a better teacher. He doesn't throw a baseball in the natural manner of someone who has played their whole life; for Alemais, it is a learned motion, mechanical but still effective. His jock credentials are not in question.
In the cage I watched Alemais as he pushed the boys, got on them when their form was off, when their mechanics slipped, or when they got too flashy. After 20 minutes he let them rest. He looked like he was just warming up.
"Last week I was walking to the field up the street with some kids and I thought, 'I can't believe this is my life,'" he said. "Then I thought, 'Yeah, this is my life.' I'm outside. I'm with kids. I mean, I could play duck-duck-goose for hours with these guys. And I get to coach them."
A kid stood next to Alemais, listening. He gripped the kid by the shoulder. "Now, last week, I'm at the Riverdale Diner at midnight and I see this one and his friend, another knucklehead in there. They're 11. My son is 14 and I'd kill him if he was out that late."
The kid's face turned red and he looked away.
"You're not doing that anymore, right?"
The boy swore he was being good but his smile suggested otherwise.
"Baseball prepares you for life's struggles as an adult," Alemais said. "As great as it is to see my son hit a triple, it's also great to see him strike out, or pop up with the bases loaded. People think I'm crazy but I want to see how he reacts, how he deals with adversity, how he fights back. That's the real character in a man and in a player. It's how you deal with failure."
Alemais' eyes were bright and he smiled. "The greatest feeling is to see a child evolve, learn to grab his glove and go back out there and not take the failure out onto the field."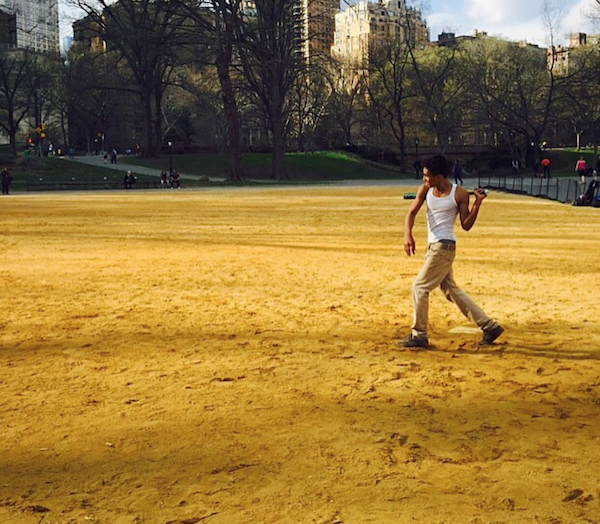 The players and their families, the coaches, the neighborhood, will gather on the fields in this part of the city when the summer is finished and school has begun. They will stay until after the first frost and the end of the World Series because baseball is what matters most to them. Then they will fill the hitting cages at the Uptown Sports Complex throughout the winter. But this is still the summer game. The dusty field and the evening heat, the dried sweat and dirty uniforms.
---
It was getting dark outside. The action was just getting started at the Dyckman courts. Not a 10-minute walk away, four baseball games were still in progress at Inwood Park. There are no lights on the field, so the day was almost done. The sounds of rapid-fire Spanish and the smell of charcoal filled the air as families set up cookouts. Teenagers with flat-brimmed hats and baggy shorts sat on coolers, mothers watched over their toddlers, and old men sat in chairs and smoked cigars. They watched the games, commiserated, cheered.
A shapely Dominican grandmother, perhaps in her mid-50s, wearing short shorts and heels, with her purse hanging off her right shoulder, held a red whiffle ball bat in her right hand and smacked one pitch after another thrown by a small boy. All the while she kept up a running conversation with two friends seated nearby in folding chairs, pausing only to yell at another boy to stop punching his sister. When the next pitch came her way she hit it like a man who did her wrong.
---
[Photo Credit: AB]