Edward Kennedy "Duke" Ellington was three weeks and four days past his 75th birthday when he died last month in a New York City hospital.
He had played his music in almost every part of the world except China and Siberia. He had dined with presidents and kings, had a Prince of Wales accompany him on drums, played piano duets with a U.S. president, performed his music on TV in Japan, Sweden, England and the U.S. He scored Broadway shows, did a ballet with Alvin Ailey, conducted symphonies in various countries, wrote for Toscanini and the Paris Symphony, scored films for Otto Preminger and wrote special shows for TV.
His series of Sacred Concerts—among his most important works by his own estimation—was presented in cathedrals from Coventry and London and Barcelona to New York and San Francisco.
He composed approximately 3000 original works, many of them portraits of leading black artists, members of his own orchestra, friends and lovers and many others, and tonal histories of black people in America. His accomplishments defy cataloging and his honors are so impressively diverse and extensive that they are almost bizarre. He received honorary degrees from at least 15 colleges and universities including Yale, Columbia, Brown, Harvard and Wisconsin. Nixon awarded him the Presidential Medal of Freedom (highest civilian award of the U.S.), Lyndon Johnson gave him the President's Gold Medal, President Pompidou awarded him the Legion of Honor, and the city of Paris honored him with a special medal. Musicians' organizations around the world gave him special awards. He was made a member of the Royal Swedish Academy of Music and the American Academy of Arts and Sciences. In 1964 the Poultry and Egg National Board elected him a member of the National Good Egg Club, and two countries, Chad and Togo, have issued stamps in his honor.
"Fate is being kind to me. Fate doesn't want me to be too famous too young."
The list of prizes for him and his band (in magazine polls) comes to 77. Seven U.S. states gave him special recognition and he won nine separate awards from the National Academy of Recording Arts and Sciences.
The April issue of Schwann Record & Tape Guide, the reference work to recorded music, lists 72 Ellington albums in a special Ellington section. But in the composer section immediately following, there is only one Ellington listing—of three of his longer works with the Cincinnati Symphony.
Ironically, in 1965 the Pulitzer Prize committee, rather than give him a special award in music, decided instead not to give an Emmy award in that category. Ellington, in a typical mocking comment, said, "Fate is being kind to me. Fate doesn't want me to be too famous too young." Two members of the committee quit in protest.
Something seems wrong here. America's greatest composer, in the opinion of so many musicians, never got the acceptance his art deserved from American intellectuals. In 1965 Dwight MacDonald wrote a long article in the New York Review of Books on the White House party for the arts, in which he mourned the fact that American composers were not present along with the writers, painters, actors and others. Yet, in the same article, he said the best moments of the whole event were when Duke Ellington's orchestra played the Ellington music. Obviously, Ellington was not a composer in his eyes.
Until the day he died, Duke Ellington's appearances with that orchestra were governed by the American Federation of Musicians' rules that apply, not to so-called classical concerts, but to dance bands and entertainment.
Early in his remarkable career, Ellington knew he was more than a piano player, more than a songwriter and more than a bandleader. He knew he was a composer and an artist of the first rank, and the first time he took his orchestra into the studio in 1926 to record orchestrally, and not just as an accompaniment to singers or as a blues novelty group, he did two original compositions that stand as classics: "East St. Louis Toodle-Oo" and "Birmingham Breakdown."
In the years that followed, Ellington recorded more than 300 times, putting on disc a history of pop music of the Twenties, Thirties, Forties, Fifties and Sixties—from funky down-home blues to "Blowin' in the Wind" and his own symphonic compositions. One of the most consistent things about his original works was their reflection of the black culture from which he came. He celebrated life in the ghettos of New Orleans, Birmingham, Washington and NewYork. These compositions evolved only in the past ten years into the extended religious works of his Sacred Concerts. And even there he incorporated adaptations or revisions of other ostensibly secular material.
By the time Ellington went into the hospital early this year, the recognition black artists were achieving in other fields seemed somehow to be superfluous for him. He had won all the polls, his popular songs—from "Mood Indigo" and "Sophisticated Lady" to "Satin Doll"—were standards in the catalogs of record companies and in the libraries of performers, and his own music stands on its own, as a body apart from the rest of American music, so individual as to be almost a protest.
Nelson Algren once observed that "if society denies someone their reality, then they'll structure their own reality." That is precisely what Duke Ellington did. He knew what league he was really competing in ("Bach and myself both write and with the individual performer in mind"), even when the critics and the impresarios and the managers denied it. After his first Carnegie Hall concert in the early Forties, one manager dismissed his extended compositions as valueless (as did some critics) and is supposed to have told him to get back to "nigger music." He even had to fight at first to get his membership in ASCAP, the American Society of Composers, Authors and Publishers.
He became so successful as a nightclub performer, as a songwriter, as a personality, that his serious musical efforts never got the attention they deserved.
So, Duke early on reached a decision. Let the symphonies and Philharmonic orchestras be supported by civic organizations and foundations. He had to have his music played and since he wrote for a special group of virtuoso players he would pay for his own orchestra by writing pop songs and playing in nightclubs. He did it for decades. His musicians received the most expensive payroll in the popular music or symphonic fields. He wrote its songs that earned him a guaranteed six-figure income for years, and he toured night after night. His was the only band that always worked 52 weeks a year and never disbanded.
Some of his people played with him long enough to have earned retirement pensions from General Motors. Harry Carney joined him in 1927 and was with him till the end. Johnny Hodges, Ray Nance, Cootie Williams, Lawrence Brown, Russell Procope and Jimmy Hamilton all spent upwards of 20 years playing the Ellington music. "I let them have all the money and I have the fun," he once explained.
He became so successful as a nightclub performer, as a songwriter, as a personality, that his serious musical efforts never got the attention they deserved. He mesmerized everybody with his elegance, his charm and his melodies, and then went ahead and wrote important music behind that screen.
He called it "skillapooping" and defined it as the art of "making what you're doing better than what you're supposed to be doing."
And so, in nightclubs, he would introduce Johnny Hodges, the alto saxophonist, and, under the guise of having Hodges play some lacy, luxurious, bluesy melody, the band would proceed to perform a five- or 10-minute composition inspired by a Shakespeare play, a mountain in the Near East, a city in Japan or his memories of life in Harlem.
Duke was addicted to his own music. A prisoner of it, in truth, and some of his most casual efforts were so successful that audiences demanded them 20 years and more after Duke thought he had finished with them. The same was true of his musicians.
Ten years after one member had left, people would still ask for them and critics would compare Duke's immediate program with his early compositions and his current band with his original one. Duke was philosophical about it all.
This nostalgia for the gold days and our music is really a great compliment. To think that 25 years ago I had the good taste to select Barney Bigard, Juan Tizol, Wellman Braud, Harry Carney and all the rest. I'm just a victim of my own good taste.
The problem with Ellington was that he was so much more than he seemed, so many things at once. He confessed that he never could resist a challenge and deplored his own drive to move on to different things. Yet he was, beneath it all, always consistent in the quality of his music
and no matter what bows he made to fad, from bossa nova to the twist, he was serious under the suave smile because, as he once said, "There has never been a serious musician who is as serious about his music as a serious jazz musician."
Ellington could be as funky and down-home as any human being.
Duke lived well. He came from a family that lived well. He was never in want and never scuffled except for his first gig. In New York once, as he recalled, he and his band (then a small group) used to "split a hot dog five ways." He traveled in the Thirties on his tours of the U.S. not on a bus, but in two railroad cars: "That was the way the president traveled." The band lived and ate and loved and partied in those cars throughout the most prejudiced areas of the South. In fact, as Ellington once remarked when a TV reporter tried to trap him into putting down the civil rights movement, he had his own freedom march in the Thirties: "We went down in the South without federal troops."
The public saw Duke on TV or in concert or in the nightclubs as a man who dressed his speech in all sorts of verbal circumlocutions, who changed clothes two or three times during a show or concert, who eternally smiled and blew kisses at the audience and accepted their applause with his standard line, "we love you madly," that he would sometimes deliver in a variety of foreign languages to accentuate his sophistication.
But backstage Ellington could be as funky and down-home as any human being. I remember standing with him one afternoon in the wings at the Paramount Theater in San Francisco while his band played. Duke listened, his legs spread apart, gently rocking from side to side, chewing gum (Juicy Fruit) and hitching up his belt from time to time. In the band at that period were two saxophonists who were dedicated to achieving nirvana through chemicals. While a long trumpet solo was in progress, the two sat in their chairs, heads drooping, nodding on the job. Duke shook his head and, out of the side of his mouth, said to me, "I don't understand it at all. I'm a cunt man myself."
And so, he was. Ellington's nightclub engagements were especially notable for the appearance of ladies of all ages, colors and conditions. And Duke treated them all like queens.
When we were filming the documentary Love You Madly (nominated for an Emmy in 1967), Duke turned to the script girl the second night of the shooting. "Sweetie," he said, "I don't know your name. You must tell me right away because last night when I dreamed about you I could only call you 'baby.'" She almost fainted.
Another time I introduced a young woman to Duke saying, "She is in a class I'm teaching." Duke took her by the hand, smiled, and said to both of us, "And have you told her I'm giving classes every night in my hotel suite?" Duke's delicacy about romantic matters is legendary. Once when he called to ask if I could make a hotel reservation for him, he added, almost as an afterthought, "and a separate room for the young lady who is traveling parallel to me."
In his autobiography, Music Is My Mistress, Duke tells about the time at the White House when Nixon presented him with the presidential medal. Duke gave him double kisses on each cheek and he turned. "Four kisses?" the president asked. "Why four?" "One for each cheek," Duke responded smoothly and Nixon said, "Oh." I've seen that bit of choreography done with an aging society matron who then walked away dreamily after Duke's answer only to stop suddenly, turn around and blush as she finally understood the implications.
Old lady friends, those on one-night stands or those who settled in for longer engagements, never forgot. One night at a San Francisco club, a tall older woman who looked like the ghost of an all-American beauty of 25 years before came up to him. She was wearing a mink coat that dripped money and was bejeweled like an oil baron's wife. "Duke," she said, "can you play 'Birmingham Breakdown'? For me?" He smiled and turned away. She tugged at his coat and added, "Don't you remember? Miss so-and-so's school in Dallas, in 1928?" Duke ignored her firmly, not because he didn't remember but because she reminded him of how old he was. The lady finally turned and walked to the back of the club, stood there for a minute fuming and then took off her expensive Italian shoes and threw them, one of the time, across the room at him.
Duke himself was a listener. He claimed to be the best and said that listening was his pleasure.
Duke's music was as much about love and about ladies as it was about black culture. He would play "Satin Doll" and announce that a "Satin Doll" was one "which was just as pretty inside as outside." And "Passion Flower" he defined as "one better enjoyed than discussed." He never made small talk out of a description of "Warm Valley," another of his more romantic numbers, but then he didn't have to. Especially if you listened.
Duke himself was a listener. He claimed to be the best and said that listening was his pleasure. He had to keep that huge payroll of the band growing (some got over $600 a week) because that was the only way he could hear his music played right after he wrote.
Ellington was a facile composer who could write swiftly and on-demand. He spent large blocks of time in quiet solitude, either in airplanes or while driving from date to date with his baritone saxophonist, Harry Carney. He thought out his compositions carefully. Sometimes, he once told me, the most important things were thought out on the john. Then he wrote. Anything could inspire him. A pretty face, a sound in the city, the view of a mountain.
During the times he was producing, Duke would frequently write all night long in his hotel room after the concert or the nightclub job. He trained himself to do this, sleeping during the day. He needed to be isolated for think time and those late night and early morning hours were when it was easiest to come by.
At times his ability to write in quick bursts of creativity was astonishing. "Black and Tan Fantasy," he once told me, was written in 1927 in New York "in a taxicab. We used to stay in Mexico's juice joint all night long and would usually be there until time to go to the recording date which was at 9 o'clock in the morning… And there I was with a number to write and so I wrote 'Black and Tan Fantasy' in a taxicab on the way to the studio going down Central Park. And 'Mood Indigo,' I wrote it in New York in 15 minutes while I was waiting for my mother to finish cooking dinner. And 'Solitude' I wrote in 20 minutes in Chicago standing up against the glass office enclosure waiting for another band to finish recording. I wrote the whole thing standing up. 'Sophisticated Lady' is one of the things I struggled with for a month. In 1939 we did 32 one nighters in 30 days and I wrote a lot of things like 'Jack The Bear.'"
"I was the yearling," Duke recalled, "and played less than anyone and I had the best job at Mexico's on Broadway. We had some great sessions. There'd be The Lion [Willie 'The Lion' Smith] and James P [James P. Johnson] to give the keys a dusting and I'd take a shot at it and Fats [Fats Waller] was there. He could play even then. There were some real jam sessions."
The Lion would put his cigar in his mouth and stomp over the piano and say, "Get up. I'll show you how it's supposed to be!" And he would.
If only we had tapes of those nights! And then there was the time Coleman Hawkins and Sidney Bechet tangled at the Candy Club. You should have heard that!
They used to have sessions every Wednesday night at Mexico's. One week they would have the trumpet players, the next week they have the tenor players, the next week the trombones. I never will forget the night they had the tubas!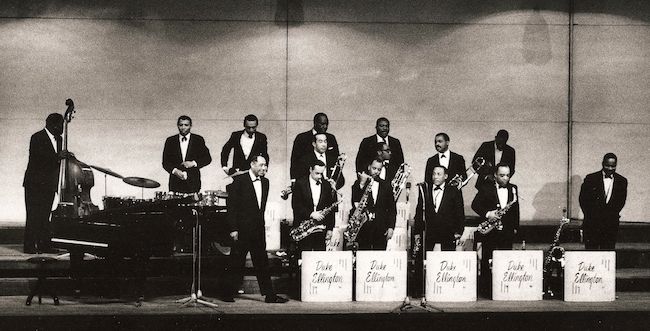 It was a little joint and you couldn't get them all in it. They were backed up out into the street. There were four tubas on the curb waiting to get in and the tuba players inside were using pots and pans and plungers and anything they could lay their hands on to make that waa-waa effect!
Ellington chuckled at the memory.
And it was on the qui vive in those days. No gentlemanly give-and-take. They meant business. We had a small band—six pieces—and we'd run up against some of those big bands and Sonny Greer would walk over to their drummer before the set and look them in the eye and glare and growl out, "I'm gonna cut you!" We scared 'em to death!
And then there was the night that King Oliver met up with Fletcher Henderson's band. Oh, I wish we had a tape of that night!
"I wrote an entire show in one night," Duke told me once. "It was called 'Chocolate Kiddies' and though it never got to Broadway, it ran for two years in Berlin with Josephine Baker and Adelaide Hall. I got an advance of $500 for it."
Ellington once wrote a composition called "Harlem Air Shaft" (you can hear echoes of it in Paul Simon's "The Boxer") and he described it as straight programmatic music. "So much goes on in a Harlem air shaft. You get the full essence of Harlem in an air shaft. You hear fights, you smell dinner, you hear people making love. Your intimate gossip floating down. You hear the radio. An air shaft is one great big loudspeaker. You see your neighbors' laundry. You hear the janitor's dogs. The man upstairs' aerial falls down and breaks your window. You smell coffee…. An air shaft has got every contrast. You hear people praying, fighting, snoring. I tried to put all that in 'Harlem Air Shaft.'"
The reference to Paul Simon's "The Boxer" is an illustration of how Ellington's music floats around in the air and crops up the most unlikely places. Simon, for instance, says he doesn't listen to jazz. The author of "Night Train" certainly did. He's Jimmy Forrest, a tenor saxophone player who once spent a year or so working for Ellington. When he left, he took along a good memory of an Ellington composition called "Happy Go Lucky Local" (part of the Duke's Deep South Suite, which was never recorded in full). Ellington always claimed to have been flattered by the exact parallel of "Night Train" to the theme of "Happy Go Lucky Local."
There certainly has been no lack of direct Ellington influence, something short of plagiarism, in almost every era jazz has gone through since he first came on the scene.
There is a bit of Ellington's "Night Creature" (written for Arturo Toscanini and the NBC Symphony) in Leonard Bernstein's West Side Story and the Duke always claimed Count Basie's "1 O'Clock Jump" was the child of a phrase he played in an early blues. "Moonglow," the pop song of the Thirties that Steve Allen made into a hit in 1955 as "Theme From Picnic," is easily recognizable as a reworking of Ellington's "Lazy Rhapsody," first recorded in 1932. And then, of course, contemporary blues fans who dig Junior Parker's version of "Goin' Down Slow" are probably unaware that the instrumental blues figure in the background is an exact reconstruction of Adelaide Hall's wordless vocal on Ellington's "Creole Love Call" (circa 1927).
As far as I know Ellington never sued anyone for any borrowing of Ellington material. He professed to be flattered, and in a way, he was. There certainly has been no lack of direct Ellington influence, something short of plagiarism, in almost every era jazz has gone through since he first came on the scene.
But in other ways, he could be very touchy about his prerogatives. He once lectured Dave Brubeck for allowing Dave's sidemen to share his dressing room. "You're a leader, a star," he told Dave—and stars don't share dressing rooms. And once when The Crescendo, a Hollywood nightclub, appeared to be giving top billing to comedian Mort Sahl, Ellington refused to enter the club until the proper order of billing was accomplished.
Duke considered himself, at least in his show business personality, an equal with all the stars. And he certainly was. Duke was secure enough in this that he thought it funny when Hubert Humphrey stepped out of an elevator at the George V in Paris, looked at Duke and said, "Cab! Good to see you!"—thinking him to be bandleader Cab Calloway.
Ellington, as Stanley Dance noted when he delivered the eulogy at Duke's funeral, loved America. He was a patriot in a somewhat different sense from John Wayne. Duke fought racism all his life and he spoke out plainly in his autobiography, saying it was basically an economic disease. "Our major problem," Duke wrote, is "brainwashing of children and adults… [It] is the worst in the world…" There are educational institutions in the U.S. where we would still be barred from teaching because of opinions like that.
Duke's patriotism was not just based on his receipt of presidential honors. He felt this country had been good to him. When Franklin D. Roosevelt died, for instance, Ellington and his orchestra performed a singular service. While the presidential funeral train was traveling from Hot Springs to Hyde Park, the blue network (which was the predecessor to ABC) had Ellington on the air for hours, from the Radio City studios, playing a long program of his own compositions. Ellington was proud of the fact that his was really the only American music heard on the air that dreadful day.
Ellington was a piano player and a great one, but his true instrument was his orchestra.
He had done the same thing once before under slightly different circumstances. The night in the Thirties the Lindbergh baby was kidnapped, Duke was broadcasting from a Chicago ballroom and the network kept the band on the air into the early morning hours so that the lines would be open for bulletins about the kidnapping.
Sometimes the black press and his black audience thought he was less than outspoken in his support of the Civil Rights Movement. Yet, as Duke told Nat Hentoff in 1965, "People who think that of me haven't been listening to our music. For the past 25 years, social protest and pride in the history of the Negro have been the most significant themes in what we've done…. We've been talking about what it is to be a Negro in this country for a long time."
All through his career, Duke's compositions reflected this, from "A Night In Harlem" in 1926 and "Black Beauty" in 1928 (long before Black was beautiful) down to his more recent "Togo Brava Suite," "Black Swan" and "Afrique." And back in Harlem in the Twenties, Ellington was trying to get other bandleaders like Fletcher Henderson to call their music Negro music, not jazz.
Yet, as I said before, Duke had his earthy side. If you hung out with him for a while, you saw it when he met the night people, the black doormen, the taxicab drivers and the street hustlers, each of whom had a word for him and many of whom he had known for years. They always dug him. He was a soft touch.
Backstage, he could bring off his elegant ambience under the most trying of circumstances. I remember him one night after a concert in a grimy old fraternal hall, standing in an improvised dressing room, just a sheet hung on a clothesline between some posts. Duke was in his shorts, a bandanna wrapped around his head, and he sat at a card table greeting one after another of his friends and making the whole shoddy room seem regal. Another time in a similar dressing room at a nightclub, an old friend apologized for thrusting himself upon the Maestro when the latter was changing clothes. Duke smiled beatifically and said, "I only take my clothes off with the people I love."
His humor could be sharp. When several of his best men left in the early '50s, he told me, "I'm just a young band leader starting out again. I'm not old enough to be historical and I'm too young to be biographical."
Once when a new trombone player, who had been drinking a little more than he could handle, stumbled and fell down just as he had been introduced to take a solo, Duke turned to the audience and said, "This is not a lull. It's a dramatic pause."
Miles Davis has said, "Duke puts everybody on," and there was the usual Milesian truth to the statement. When I made the pilot TV show for the educational TV series Jazz Casual, Ellington was the guest artist. We were all set and waiting for a 5 o'clock taping. Came 4:45 and no Duke. Came 4:55 and no Duke and then he walked in.
The crew was in a panic. I was sweating like a grand jury witness. I went over to the Maestro and said, "Now Duke, the usual formula is…." Duke smiled benignly at me and said, "Anybody can do it with a format, sweetie. The trick is to do it without one. Now I'll sit at the piano and start to play and you walk on and ask me what the tune is and we'll go from there."
I said "OK," weakly, did what I was told to do and we had a half hour of Ellington and Billy Strayhorn piano duets with the maestro talking up a storm about his music.
Duke could be perverse, too, to put it mildly. When he first appeared at the Monterey Jazz Festival, the same summer he had made a tremendous hit with a long up-tempo number at the Newport Jazz Festival called "Newport Up," Duke asked Jimmy Lyons, the manager of the festival, what he should play. "Anything you want to, Duke," Lyons replied, "except that number about the other festival." So, Ellington opened his show with "Newport Up."
Ellington was a piano player and a great one, but his true instrument was his orchestra. One of his greatest abilities was his gift for creating tension with subtle rather than raucous sounds, as his son Mercer has noted. And he wrote, like Bach, for the performer, his performers, which is one of the reasons his scores are not published since they changed from player to player. "It's not the notes that are important," Duke said, "it's who they are written for. Before you can play anything or write anything, you must hear it. Some of the prettiest things on paper come off very drab. So, you hear, you imagine, you see a note on a piece of paper and you hear it played in the tone personality of a particular musician.
"For instance, here's a guy who uses a mute, and he finds he can get only seven good notes out of it. The problem is to use those seven. Personalized writing is very important. If I didn't know who I was writing, I don't know what I'd do. When we first did 'Black and Tan Fantasy,' we found there was a mike tone created by using two horns close to the mike. The problem, then, when we did 'Mood Indigo' later, was to use that mike tone!
"I always consider my problems opportunities to do something. Like Jimmy Valentine or Houdini. Necessity, in other words, is the mother! But I couldn't work without a deadline. If I retired to some luxurious home by the sea, you know what I'd write? Nuthin'!"
"I'm not worried about writing for posterity. I just want it to sound good right now."
And so, Ellington spent his life on the road with his own self-financed orchestra, writing his music in hotel rooms, taxicabs and airplanes, making the final decisions in the john and hearing it played within hours by the collection of virtuoso musicians he paid so handsomely. Duke thought he was a lucky man to have that pleasure. Money was incidental. "I have to get a bang out of it, not just the money. I'm not worried about writing for posterity. I just want it to sound good right now."
The weekend Duke died, I watched the TV news shows from the funeral parlor and the church with all those thousands who came from all over to mourn him (singer Alice Babs flew in from Spain), and I could not cry for Duke. He was out there living every minute like a teenager right up to the last few months. He had been everywhere, seen everything, knew everybody, and all his adult life he had the one thing he wanted most—his orchestra ("an expensive toy") to play his music. And what music! As the French poet Blaise Cendrars said, "Such music is not only a new art form, but a new reason for living."
I am honored to have known him. His music gave me countless hours of pleasure throughout my life and I expect it will continue to do so. And it was not just pleasure, it was inspiration. Duke's mystery was inspiring. He made you want to know. As André Previn remarked one night after we'd seen Duke's band, "You know, Stan Kenton can stand in front of 1000 fiddles and 1000 brass and make a dramatic gesture and every studio arranger can nod his head and say, 'Oh, yes, that's done like this.' But Duke merely lifts his little finger, three horns make a sound and I don't know what it is!"
Previn's statement, really, says more than a Pulitzer Prize ever could. Duke was a musician's musician and a composer's composer. And one incredible man. Four kisses. One for each cheek.
---
[Photo Credit: Louis Panassié and Hans Bernhard c/o Wikimedia Commons]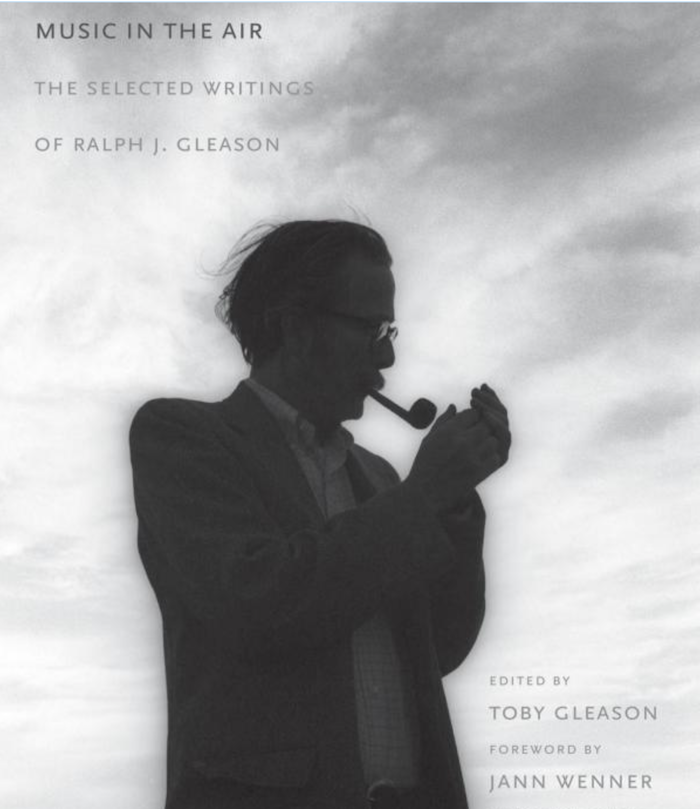 This essay appears in the stellar collection, Music in the Air: The Selected Writings of Ralph J. Gleason. 
First reprinted at the Daily Beast.