I'm driving on Sunset Boule­vard, heading east, passing thickets of scarlet bougainvillea. I'm on my way to meet Sasha Grey, the 22-year-old star of countless adult films who doesn't have breast implants, blonde hair or col­lagen in her lips and doesn't look like a porn star. Here's what I know about Sasha: She reads William S. Burroughs and Anais Nin and likes the films of Michelangelo Antonioni. I know that she gave an intriguing performance last year in Steven Soderbergh's The Girlfriend Experience, that she's currently playing herself on Entourage and that she's going "mainstream," as she puts it, by abandoning the porn industry she broke into in 2006 with her singular mix of calculation and rashness.
"Make it ridiculous," she told Los Angeles magazine after making her first films. "Make it disgusting; make it loud and filthy—that's what I want to do on film. That's why I'm in the business."
I also know that despite her in-your-face methods, something about her is divinely elusive. Even when she filmed hard-core she came across as just out of reach, a woman who can be had but never possessed. I know that she named herself after Oscar Wilde's Dorian Gray and that there's deftness in that choice, given Dorian's insatiable pursuit of pleasure, and that gray—the color of clouds—is a word suggestive of veils, mystery, distance.
I've come to talk to Sasha about desire, and my thoughts veer reflexively to a long-ago summer when I was so ensnared in desire that my insides felt molten. It was a season of fitful sleep, when unassuming breezes traveling over me felt like caressing hands, when I would feel elated and tearful, ravenous and lost, all within the course of an hour. It ended badly, of course. By autumn I regarded desire as the First Trespasser, a condition that materializes abruptly, unbidden, summoned by the prospect of a kiss, the glimpse of a breast or thigh. A state best suited to fools and poets, it is, I decided, for those who can tolerate fierce, insistent longing for something you desperately need and have to have.
It was the need that did me in, for on the list of irredeemably unsexy traits, neediness is up there with borrowing money and bad hygiene. Neediness robs you of pride, of self, of personal power, and for years after that sum­mer I remained convinced that desire is toxic, a danger to be averted. As I pull up to the hotel where I'm meet­ing Sasha, I'm thinking that another thing I know is that she never cedes her power and that the essential dif­ference between her and me—and possibly you —is that Sasha refuses to allow desire to make her a victim.
She is prettier and more delicate than she appears on film, with mahogany-hued hair framing round pink cheeks and skin as white as Irish linen. Her smile suggests that she knows a secret she isn't telling. Yet she's devoid of secrets, having long since admitted to herself and every­one else that she's driven by desires that others spend a lifetime denying, even to themselves. "I'm very open," she says. "No pun intended." She's also surpass­ingly calm and so in command of herself that she's kind of regal, provided you can be regal in a laid-back way. Were I casting her in a movie I'd cast her as Anne Boleyn, who teased and tor­mented Henry VIII for years, refusing to yield to him until she knew for a certainty that he'd make her his queen and apprehending all the while that desire is the ultimate sexual weapon.
Sasha would be persona non grata in many American towns, but as a self-created original she embod­ies the archetype America loves best.
Clearly Sasha wields that weapon too, although what she has mastered isn't 16th century desire driven by pin­ing but contemporary, rapacious desire that demands immediate satisfaction. I'll never convince her of my view: that the old school was better, that what we seek is more perfect and grander than anything we can actually get, and thus, desire fulfilled is disappointment found. Now, sitting across from her I find myself wondering, Which of us is the romantic, and which is the cynic?
Sasha would be persona non grata in many American towns, but as a self-created original she embod­ies the archetype America loves best. Her readiness to assay every conceiv­able mode of sex prompted Rolling Stone to dub her "the dirtiest girl in the world," yet you'd look long and hard to find another porn star who views her work as "performance art" and an opportunity to "learn about the human condition." She was raised in Sacramento, in what she describes as a "disenfranchised neighborhood," an enclave quickly abandoned by any young person with a dream or a spark. Even at 13 she was what she calls "business minded," buying candy bars for a quarter and reselling them for a dollar. At 16, the year she lost her virginity, she wanted to own a restaurant; at 17, studying dance and acting at a junior college while busing at a steakhouse, she was beset by the certainty "that I could be doing something bigger and better."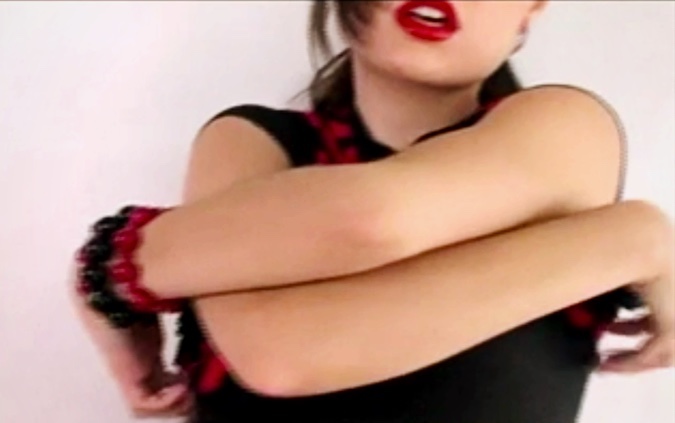 When she became involved with the steakhouse's cook, a 25-year-old who liked S&M, she found that bigger, better something where she'd not thought to look for it: in bed. For a Catholic, schooled in the vagaries of sin and "very uncomfortable with my fantasies," sex was deliverance and revelation. It was also a yardstick that measured her willingness to give and capacity to receive. Sasha's yardstick soon revealed that she had no limits.
She wanted to go deeper into S&M; the cook refused. They parted, leaving her wondering how to find others who shared her interest. How do you bring that up? thought the girl, who until lately had been taking communion.
"Rule number one," she says, "is if you don't like something in real life you shouldn't be doing it on camera."
While watching porn it dawned on her that making such films could connect her to her desires in a safe environment. She arrived in L.A. at the age of 18, old enough, she determined, to know her own mind. "We send kids to war at 18," she says flatly. Soon, carrying to work a suitcase filled with lubricant, enemas, dildos, douche, disin­fectant, Orbit gum and hand sanitizer, she began a career that was, essentially, an enactment of the marketing dictum "Find a need and fill it." But they were her needs, her desires. Thus, she could do anything and maintain her luminosity because you cannot degrade a person who wants to be degraded. "Rule number one," she says, "is if you don't like something in real life you shouldn't be doing it on camera."
In The Girlfriend Experience, Sasha plays a call girl who develops an interest in a prospective client. They set up a tryst, but he calls and says he can't deal with it; he's going home to his wife. As she weeps, betraying emotion for the first time, the scene affirms a truth Sasha lives by: that sex, even the wildest sex, is safer than the uncharted realm of emotion.
Her own emotions are invested in her husband, whom she married nearly a year ago and who is her best friend. When I ask if there's anything she wouldn't do on film and saves for him, I'm anticipating an answer about orifices and positions. Instead she says, "They wanted me to spend the night with someone, and they would shoot for 24 hours. There's a point at which if you're there for 24 hours it really does become real, even though there's a camera running." She refused, reserving for her husband the vulnerability that accompanies the transition from day to night, night to day, and its hazy intimacies.
I also wonder if the girl known for doing "everything" has any unanswered desires. "I love the scent of laundry," she says. "Every place I've lived I've not had a real laundry room. I want to have sex on top of a washing machine."
Lest you assume this is some Freudian fantasy signaling a subconscious wish to cleanse herself, let me assure you that shame has no place in Sasha's lexicon. Consider, too, that desire has its own unique logic, its own imperatives. If you don't believe that, you haven't been paying attention.
---
[Photo Credit: chrissie kremer]